For a small to medium scale business building and maintain an efficacious and healthy IT environment can be a great challenge. A small company might find it difficult to attract significant talent and the IT department has only a handful number of professionals. This is the reason several businesses are turning to IT outsourcing Toronto company.
However, when you are in the market to get a new managed IT service provider, make sure that you vet the MSP thoroughly.
Managed IT Services is Just Like Tetris
No two environments can ever be the same. Similar is the case with IT outsourcing Toronto company. Any reputed managed IT services will be ready to mold and customize the agreement to fill up the gap of the in-house team's skills. This is just like Tetris where only a small gap in the line has to be filled and sometimes blocks stack out of control at a rapid speed. In either case, the solution has to be rearranged, shifted, and also customized to fit the requirement.

The Customer is the King
A good IT outsourcing Toronto company understands that the work is half technical and half customer service. Every IT director or executive will demands for the MSP to fulfill the responsibilities that have been outlined in the contract aren't enough. They also ask for exceptional customer service.
Look for a managed IT service provider who outlines the customer support policy, give a detail communication strategy with the team, and set service level agreement.  Some accounts might require weekly or monthly meetings for covering up any salient issues and offer recommendations on how to move forward. The primary goal is to facilitate a transparent and open relationship with the MSP.
Clearly Defined Escalation and Notification Procedures
It is not enough to think that your IT outsourcing Toronto company will forward alerts in the environment when they arrive.  The prospective MSP has to define the alert procedures.  Moreover, the MSP needs to have a clearly defined escalation system.  No one is that perfect and your MSP is going to encounter a problem they will not be able to handle right away.  Hence, you have to ask your MSP to state their escalation process and then request them to write it in the contract. You should find out an escalation procedure which will automatically trigger the person next to you after a specific amount of time.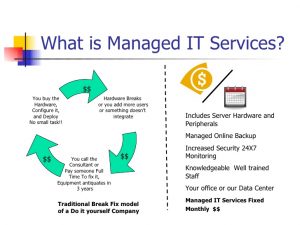 Certification and Experience
It is better to look into the collection of certifications, years of experience, and awards a potential MSP possesses, like stated before; half the job is for the customer service. However, the other half is pretty technical.  One of the primary benefits of MSP is that the company will be able to leverage the experience of top IT outsourcing Toronto company at an affordable price. You should look for an MSP who will be able to surprise you with their technical chops.
All these shows that you need to work with someone who you can work with. You are actually endowing them with serious responsibilities. Moreover, no parties involved should treat it in a light manner. A perfect partner will serve as a clear communicator who can eagerly describe how this can be done rather than focusing on the roadblocks. For more details visit this link!